Products
What's New?
(18-February-2009)
A new tool from the bollard box to help with pedestrian safety ....

(11-August-2009)
LANE-FLEX

House runs over a Bollard!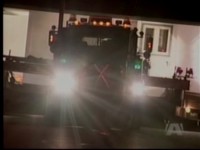 In December 2008 Nickel Brothers, the well know BC heavy haulage company, were moving a three bedroom house weighing about 60 tons along a route which had cente refuges equipped with TSS illuminated bollards.
The local works engineers had to remove equipment from the road to allow the house to pass, however we were confident that the bollards could stay.
The video link below is an entertaining account of that night... as the man said "You've got to see it to believe it!" ....

Other Traffic Signs Solutions News Articles

Illuminated Bollards at Deer Park Washington State